Only 99¢/Slot.
Instant Setup. Be up and running in 5 minutes or less! Excellent pings around the world and free world migration services are just the beginning!

Our Unturned server hosting boasts the best control panel around. We support all mods! Install your favorite mods right from the control panel.
Our Chicago-based Unturned server hosting allow you to create a server that offers low latency to all players on blazing-fast hardware. Get started with your Unturned server hosting today!
FREE Backups – Unlimited Disk Space – 99.99% Uptime SLA
Why ChicagoServers?
All the Perks
– 7 Day Money Back Guarantee
– 40Gbps DDoS Protection
– One Click Mod Installer
– Free Server Backups
– Sub-User Access Control
– Group/Clan Pay
– Expert-Level Support
… and much more!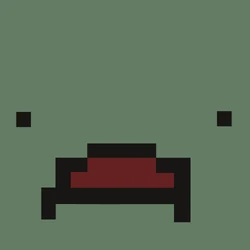 Once you Order:

Your Unturned server will be activated instantly. Your connection information and control panel login details will be emailed right away, which you and your friends can use to join the server. You can customize your Unturned server within our TCAdmin v2 server control panel.

We provide full access to your server console and all server files via FTP. We provide many tools not offered by our competitors, including sub-user permissions and 40Gbps DDoS protection included! If there's anything you need help with, our 24/7 support team is available to assist if needed!
Easy as click and
configure.
We have many customers ranging from beginner admins to large communities! Our helpful team is here to guide you. We can help point you in the right direction when it comes to installing mods, changing settings, making the server private/password protected, and more. Our customer service is available 24/7 to assist with any server hosting questions. Contact our Live Chat (bottom-right of the page) or submit a ticket there's anything we can help with.
If things really go bad, you can install the server with one click back to fresh factory settings with one click and get back up and running in seconds!
Did we mention we Pricematch?
If you're sold on our solid network but you're with a current company, contact us using live support in the lower right-hand corner of this page, or submit a support ticket and provide a copy of your last invoice, and we'll match their price!
Contact Sales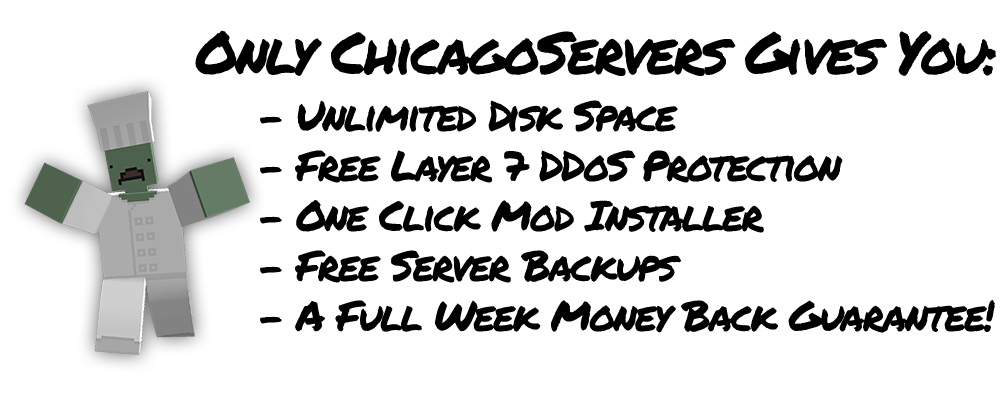 Powerful Industry-leading control panel
TCAdmin v2
with custom mod installers!
Feature-Rich Control Panel
We use TCAdmin 2 and have features such as server wipers, backups, Steam Workshop mod installers, and more.
Instant Setup & 24-Hour Trial!
All of our servers come with instant setup so you can get playing within minutes after ordering!
Plus, with our 24 hour trial, you can't go wrong! If you're past that, that's okay! All servers come with a 7 Day Money Back Guarantee!
Sub-User Access Control
You manage who has access to your server. Customers have the ability to add both billing and/or control panel sub-users so you can grant access to specific features, or all, that you want someone having access to. Want someone to only be able to stop/restart the server but not access to break config files? Done!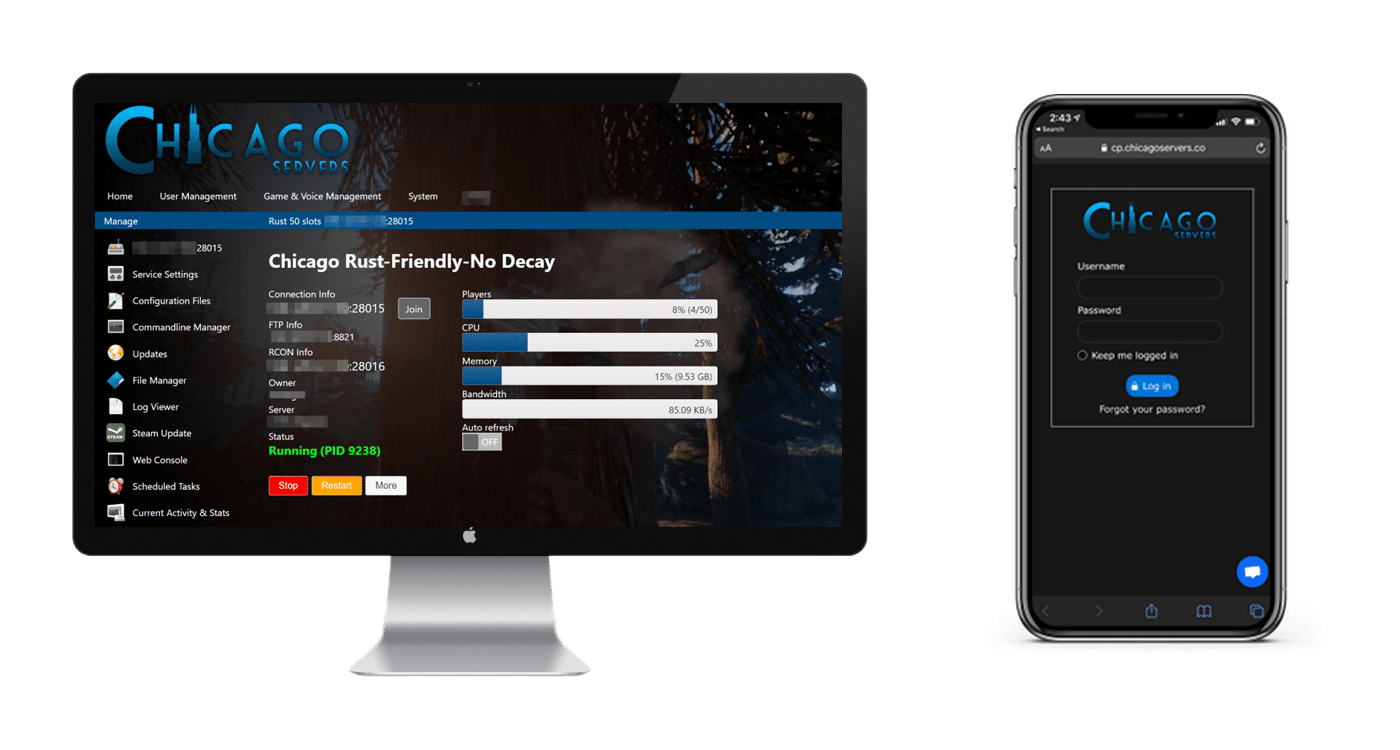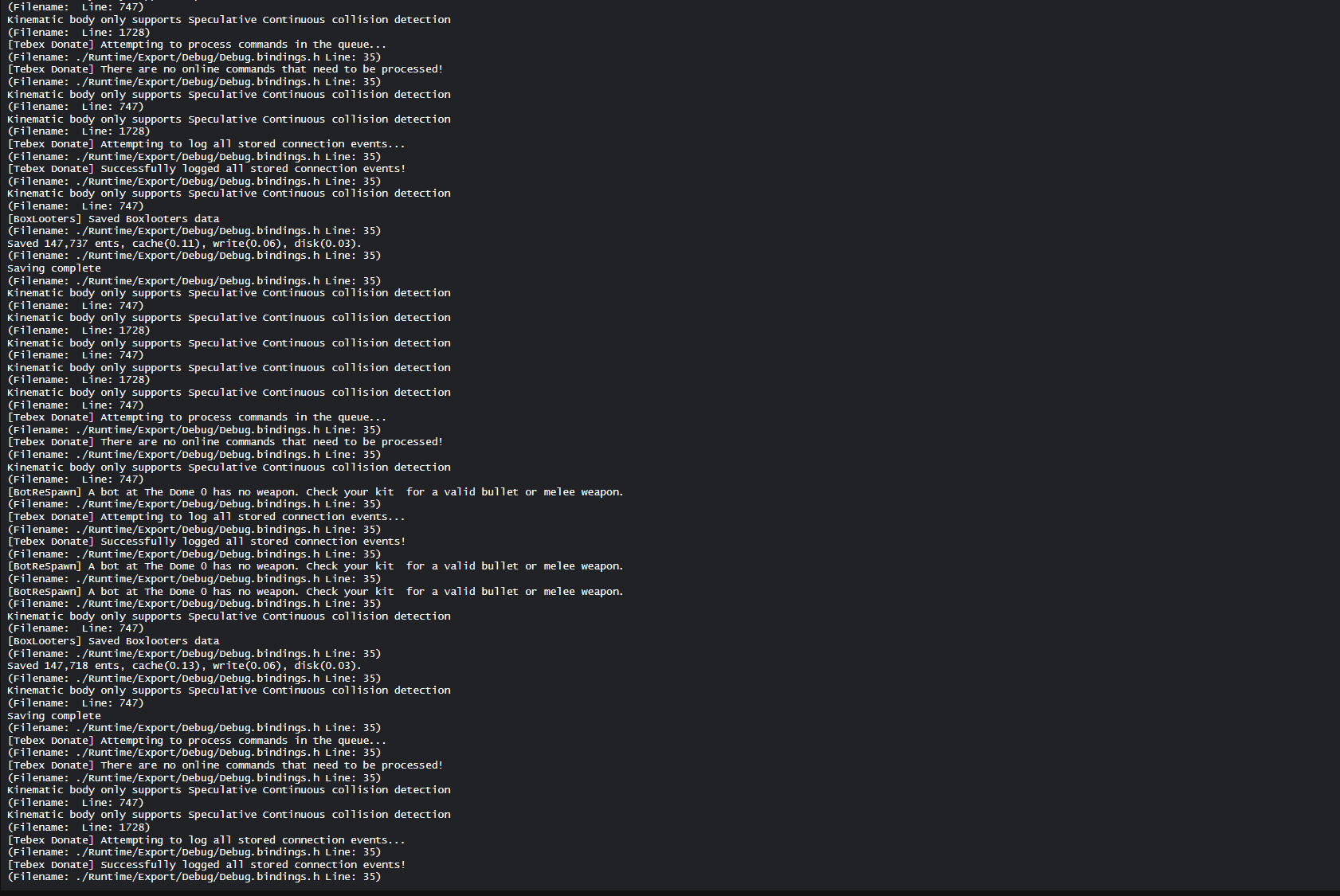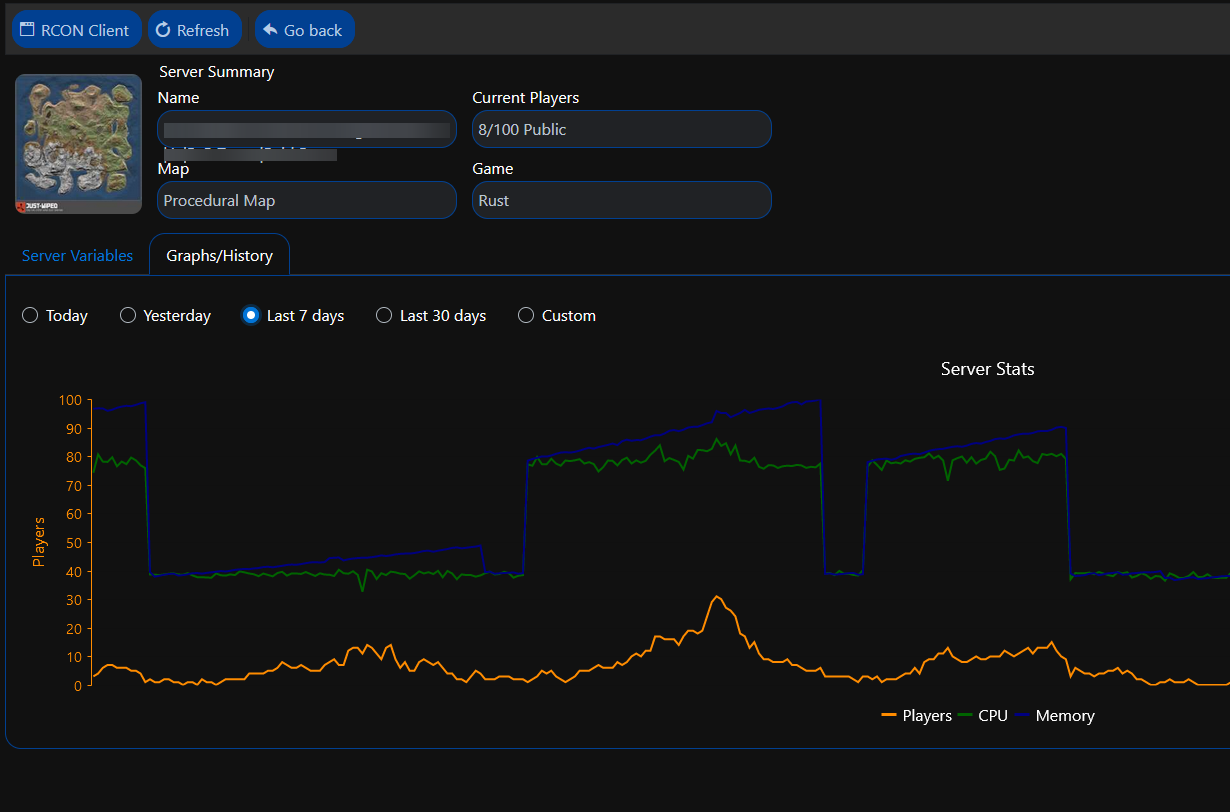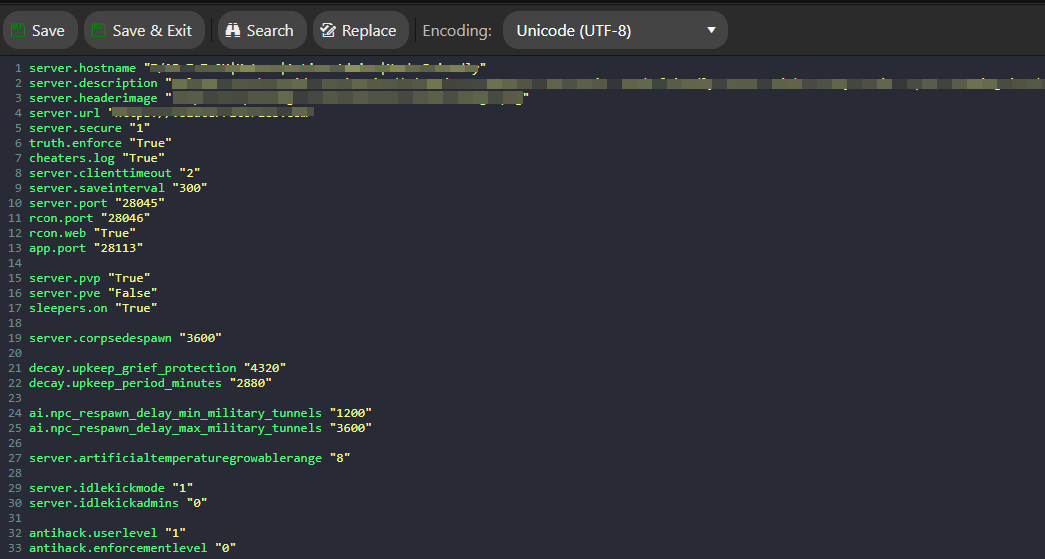 Top Reasons Customers Love ChicagoServers
See why our customers love us!

Over 95% of customers rate us 5 Stars!

Verified by TrustPilot.com
Orville H.
The level of service is exceptional. I have not played for a few years and the suport has put up with my request and need for help in a friendly and expedient manner. The service level really has been exceptional.
Kub L.
An amazing support crew that easily goes above and beyond to assist you, any problems I had were tackled in seconds to few minutes. Amazing servers and no problems with them at all. Would recommend and would purchase again.
Anonymous
they have helped me SO much with my server, if I were to lose that world file I would have been a goner. These people however, helped me through many hours and got me what I really needed. Great work you guys!
See why we're rated 'Excellent' on TrustPilot!
These are all real reviews. We don't bribe our customers for 5-star reviews, like some competitors. Everyone gets the chance to review our services and many are impressed enough to leave positive feedback!
7-Day Money Back Guarantee!
If you're not satisfied with our servers within the first 7-Days, we offer a 100% refund!

That's it... there's no special terms or rules to trick you.
What is Unturned?

Welcome to the exhilarating world of Unturned, where survival instincts collide with strategic gameplay! Unturned, a popular sandbox survival game, challenges players to navigate a post-apocalyptic landscape teeming with zombies and environmental threats.
Elevate your gaming experience by choosing ChicagoServers for your Unturned server hosting needs. Our cutting-edge hosting solutions ensure seamless gameplay, minimal latency, and uninterrupted adventures for you and your friends.
With a focus on reliability and performance, ChicagoServers stands as the optimal choice for hosting your Unturned server. Unleash your creativity, forge alliances, and conquer the challenges of Unturned with the assurance of unparalleled hosting quality, powered by ChicagoServers.
Join us and experience survival gaming at its finest, where every moment counts and every decision shapes your destiny.
How do I make my own Unturned Server?

Simply click the below button to place an order.
Your Unturned server will be activated instantly once the order is complete. Your connection information and control panel login details will be emailed right away, which you and your friends can use to join the server.
Once logged into the control panel, you will have full control on managing your server's configuration settings, startup commandlines, and be able to install plugins and mods.
If you get stuck at all, our highly experienced support team can help.
We also have a curated Knowledgebase containing many helpful guides on managing your Unturned server. We also include Unturned video tutorials made by our team!
Top-Tier Datacenters
Chicago's Finest
Datacenters
All of our hardware at ChicagoServers is securely housed at two premier locations:
680 S. Federal Street (Digital Realty) and 603 Discovery Drive (SBA Edge) in Chicago.
Our servers run Intel i7 and AMD Ryzen Processors coupled with NVMe SSD Drives. All servers are protected by RAID 1 and 40Gbps of Layer 7 Application-Level DDoS Protection.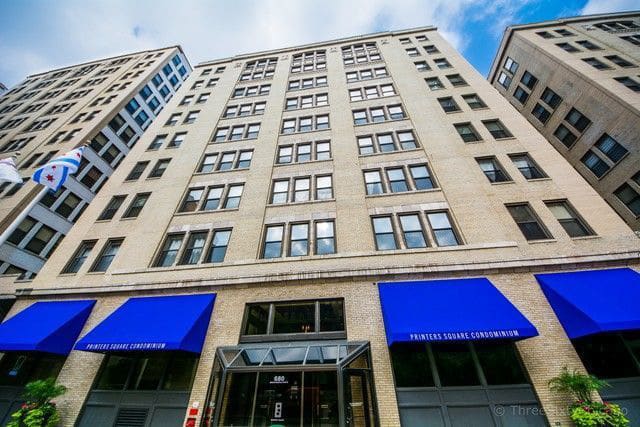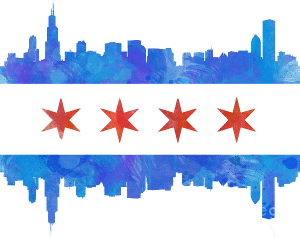 About [Your] Hosting Company
We are ChicagoServers.
Founded in 2019 by 5 Experts.
ChicagoServers is an industry-leading game server hosting provider that delivers solid performance at affordable prices. We provide all the tools that help make managing your server easier so you're spending less time in the control panel and more time playing.